Over two decades ago, Dr. Binh Tran followed her passion to embark on a lifelong project, providing educational opportunities to young people in Vietnam. Out of that passion came the APU International School – a leading K-12 institution with campuses in Ho Chi Minh City and Danang. Building on the success of APU, a long process lead to the creation of the first American-style university in Vietnam.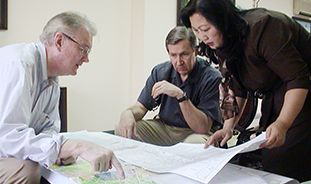 The American University in Vietnam (AUV) received an investment license in 2009 and broke ground for the construction of a large scale campus in Danang City in September 2010. Soon after, AUV entered into relationships with a number of universities in the U.S. with whom we have formed academic relationships.
Along with an International Advisory Board of US educators, AUV established a curricular focus in liberal arts, business administration, management, and communication studies.
With support from the provincial leaders, the Government of Vietnam, and the community, AUV received approval from the government in 2015 for courses and degrees to begin in fall of 2016.
AUV is expanding its reach and programs to include business administration, communication studies, broadcast journalism, health sciences, media communications, PR, software engineering, computer science, sustainable tourism, and select other disciplines.